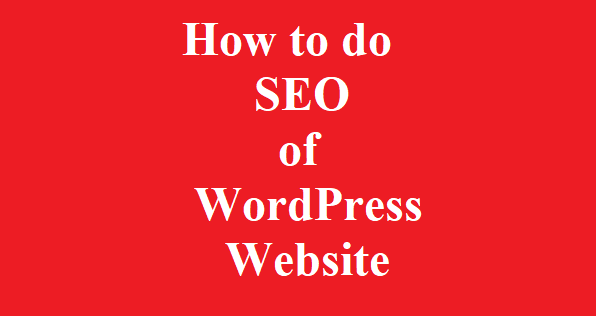 How to do SEO of wordpress website. These days, SEO is common search topic in market. There are multiple web tutorials in the market. Here you will see complete material for SEO.
Create WordPress blog website.
Do not activate Search Engine visibility until blog is completed.
All URL(Uniform Resource Locator) must having name of the page.
ID's are not user friendly so do not use this in URL.
There must be sitemap for all the website. For reference you can find example plugin 
Install best wordpress SEO Plugin. I have heard Yoast SEO and ALL IN ONE plugins.
Enable rel='canonical' tag for all blogs pages.
Mark all links, which are not reliable, with no follow.
Do not create duplicate pages titles.
Cache plugin must be installed just to give fast performance of blogs.
Use Cloud service, stores the static content of web pages on to the nearest server which dramatically improve performance of website So Always use cloud based solutions for fast performance of website.
We should not allow spam comments on websites.
File name should be SEO friendly.
File text must be more than HTML tags.
Never use frames in websites as frames are totally against SEO.
Maximum ads are using java script which should not be used on our website.
Just put data related to topic within page content.
There is no need of fancy look to web pages for SEO purpose. It does not mean that you should not upload fancy content onto the web pages.
Filename should be short and itself explainable.
File name must have minus symbol instead of underscore.
We must use few keywords in file name.
Do not use filenames such as single generic word. We must use complete name which is self explainable.
File name should not be lengthy.
File size must be less than 100 kilobytes.
* The Content stated above is for informational purpose only. Expert Software Team is not responsible if any part of content found meaningless in any manner or condition.