How to download and install selenium web driver ?
All the engineers who want to work on selenium they are having query How to download and install selenium web driver. How to create setup for selenium testing. A lot of queries is there in mind of engineers. Lets give some light on this
Prerequiste for Selenium Web Driver installation
For Java
Step 1 : Download Java : Download java software development kit from Java Official Website
Step 2 : Install Java : Install Java by following instructions from java Official Website 
Step 3 : Download Eclipse IDE : Download Eclipse latest version from Eclipse Official Website
Step 4 : Install Eclipse IDE : Install Eclipse
Double click on downloaded setup
Select Eclipse IDE for Java Developers
Select Path to install. In our Case it is "C:\eclipse"
Click on Install Button
Wait for Installation
Click on Launch to launch Eclipse
Step 5 : Download Selenium java Client Driver from Selenium Official Website
Results to download zip file
Extract Zip file to C Drive
This Directory contains multiple jar files
Will be imported into Eclipse for selenium project
Step 6 : Configure Eclipse and IDE Driver
Launch Eclipse exe file from eclipse installed location. In our case it is "C:\eclipse"
Select Workspace location
Create a new project through File > New > Java Project.
Name the project as "newproject"
Project Name
Location to save project
Select an execution JRE
Select layout project option
Click on Finish button
Right Click on Newly Created Project in Eclipse
Enter Package Name in our case it is newpackage
Click Finish
Right Click on package name i.e. newpackage
Create a new Java class
Enter Class Name
Click Finish
Step 7 : Load Selenium Jar Files into Project
Right-click on "newproject"
select Properties.
Click on "Java Build Path".
Click on the Libraries tab
Click on "Add External JARs.."
On pop-up window.
Open lib folder
Select all jar files and add it
Select files outside lib folder
click "Apply and Close" button
Click OK
Import Selenium Libraries Done
Step 8 : Installing Browser Drivers
For HTMLUnit and Firefox there is no need of separate component as web driver can directly communicate But for all other browsers like chrome , internet explorer etc. there is need of separate component called Driver Server 
In Selenium latest version , All browsers need a driver server to automate
We can officially download drivers from Selenium official website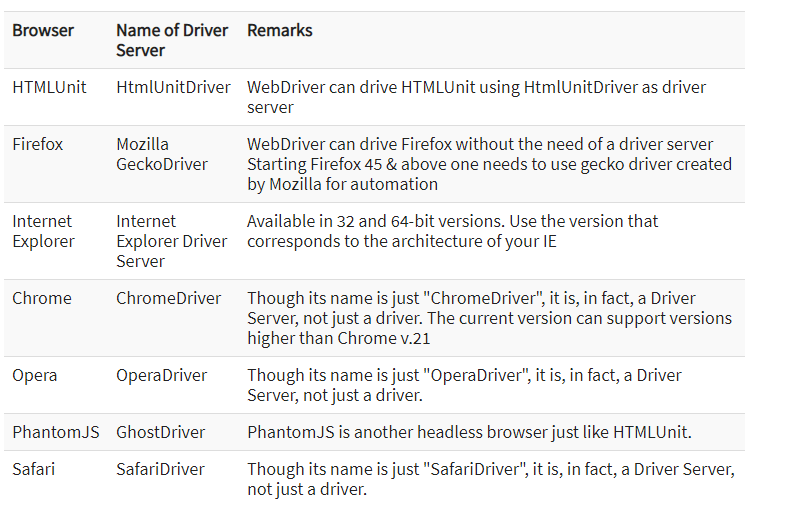 For C#
* The Content stated above is for informational purpose only. Expert Software Team is not responsible if any part of content found meaningless in any manner or condition.