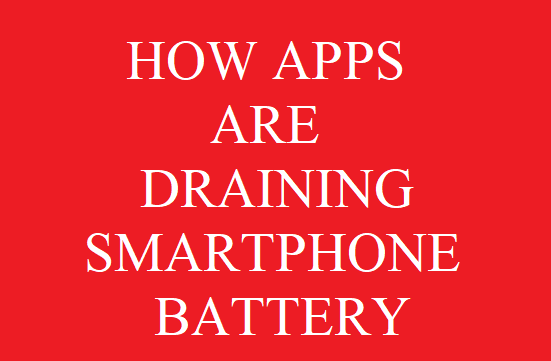 How Apps are draining Smartphone battery? This question worrying every Smartphone user these days. The various reasons where apps held responsible for low-battery are as follows:
When there are many Unnecessary apps installed in your device and they are working in the background, whether you are using them or not. This background working of apps sucks up the battery. So try to uninstall those idly sitting apps.
Many apps require daily updates, these are necessary but when they start their update process which includes downloading and installing, battery power starts reducing.
Watching videos and movies continuously on mobile leads to low-battery power and you might end up with an empty battery when you have some important work to do. So always save some part of the battery for these type of situations.
A Big factor responsible is Virus because the Virus has ability to hide inside your phone and work in background unknown to you. This will eat up your battery power and you never know why you are losing smartphone's battery power. So always have an Antivirus installed in your phone.
If your battery is heating up unnecessarily or battery power reduces in a small amount of time even after the full recharge, then it's time to change your smartphone battery.
Playing games for long hours on mobile also decrease the power of battery so always keep your battery up before having fun with mobile games.
To check which apps are using your battery power and in how much quantity go to Settings in your mobile phone and tap on Battery, you will see the list of apps utilizing the phone's battery.
If you want to know more about battery draining apps kindly leave your message in 'Leave a Comment' section below.
* The Content stated above is for informational purpose only. Expert Software Team is not responsible if any part of content found meaningless in any manner or condition.