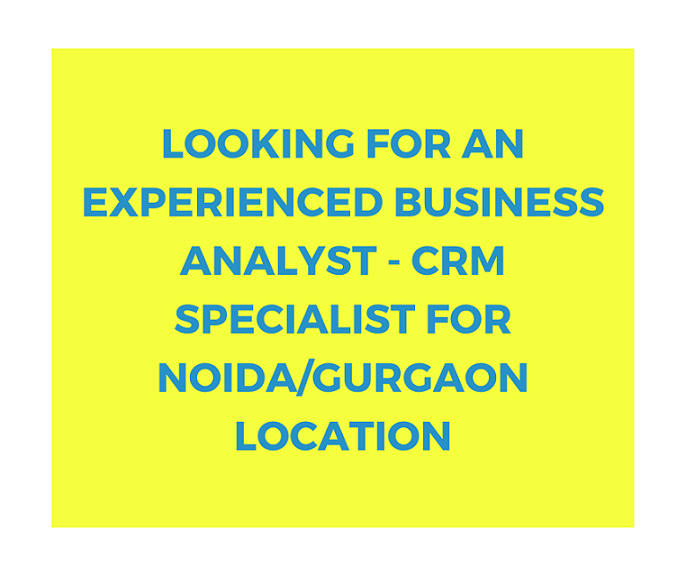 Looking for an experienced Business Analyst – CRM Specialist for  Noida / Gurgaon Location
Must have hands-on testing experience on testing application on Microsoft Dynamics CRM ( any version)
Must understand Dynamics CRM or any other CRM end-to-end implementations
Job Description : 
Creation and execution of test plans, test requirements and test cases.

Involvement in requirements, contribution to test cases, test scenarios and test plan developments.

Writing precise and concise issue descriptions that add value for the team evaluating the issue.

Using formal software QA methodologies and standard software development practices to construct
test suites and build test environments including test database.

Quickly develop a good understanding of the functionality of all applications and troubleshoot issues that arise during testing or that are reported by customers.

To work as part of Agile team for new application development and/or improving existing applications to meet the changing needs of the business. Assignments may include application design and development, coding for enhancements and fixes, testing, maintenance and support.

Writing various utilities to help implementing automation testing and configuring test infrastructure.

Participate in design and implementation of applications and test framework.

Create and execute test cases to verify the correct functionality, usability, performance and reliability of systems and applications.

Create bug reports for anomalies found during testing.

Work closely, collaboratively and communicates effectively with project stakeholders, engineers, and managers.

Take initiative and ownership, perform as a mentor and help build a positive, productive teamwork.

Experience in API testing, test automation and manual testing.

Should have basic programming knowledge.

Should have working experience in writing and executing test automation scripts, experience in building and integrating with automation frameworks using selenium.

Working experience with database systems, should have working experience in SQL.

Should have understanding of agile methodology.

Should have excellent communication skills (verbal & written).

Should have an eye and passion for quality.

Should have passion for learning.
Send your resume at  jobs@kalcee.com 
Please note interviews would be conducted on Saturday and Sunday.
* The Content stated above is for informational purpose only. Expert Software Team is not responsible if any part of content found meaningless in any manner or condition.